March 25, 2019
Posted by:

biomedic

Category:

Events, News
With the aim of updating knowledge in Genetic counseling and assisted reproductive for obstetricians, gynecologists and embryologists, etc., University medical center HCMC held the conference "Reprodutive genetic counseling" 2019 with the sponsor and acompanion of Biomedic. The conference took place from 8:00 a.m. to 12:00 p.m. on Friday, 5th April, 2019 at the Hall Castor 2, Floor 5 Gem Center, No 08 Nguyen Binh Khiem, Da Kao Ward, District 1, Ho Chi Minh city.
The leading scientists in genetic medicine and assisted reproductive led and joined to share reports in the program. Those scientists are  Assoc. Prof., Dr. Nguyen Hoang Bac, Director of University medical center HCMC, Prof.,Dr. Truong Dinh Kiet – Head of Genetic Medicine Institute, Prof., Dr. Nguyen Dinh Tao – Head of Hanoi assisted reproductive association – Director of Center of assisted reproductive, General Hospital 16A, Dr. Hoang Thi Diem Tuyet – Director of Hung Vuong Hospital, Dr. Tran Nhat Thang – Obstetric Department, University medical center HCMC…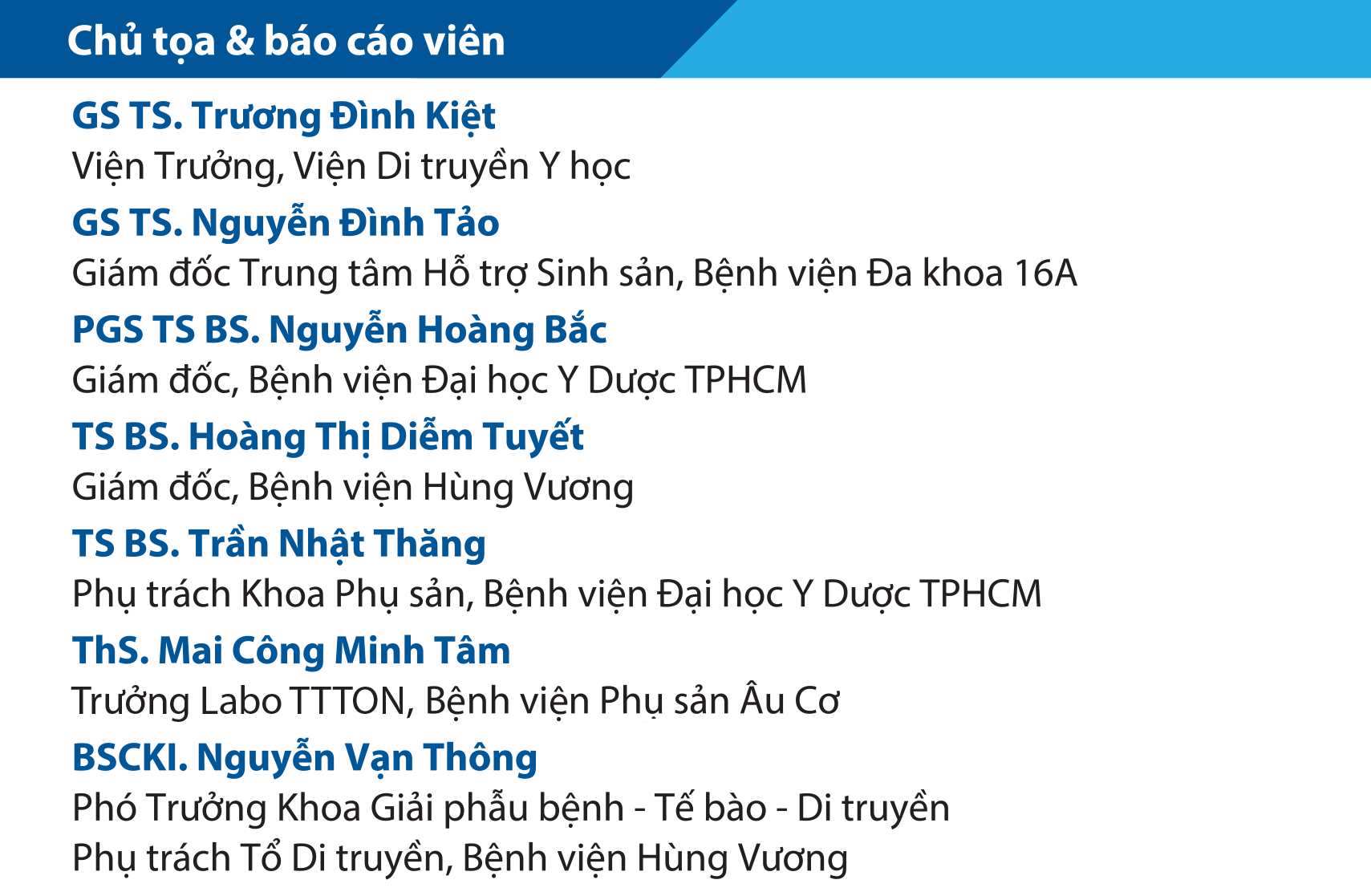 The list of organizers and reporters at the conference
The statistic shows that Vietnam is one of the countries which has the highest rate of infertility in Asia-Pacific (about 1 million couples). Therefore, assisted reproductive methods are hopes for patients with infertility. Besides, that a baby in vitro fertilization is born healthily is also a worth concerned matter because the rate of birth defects and genetic diseases are quite high for that baby. Hence, applying genetic analysis techniques in providing treatment for infertility, screening and detecting prenatal genetic diseases brings advanced improvement in obstetrics in the world as well as in Vietnam.
In the framework of the conference, specialists shared and discussed about overview assisted reproductive in Vietnam, limitation and optimal solutions for in vitro fertilization technology in Vietnam, genetic testing applying in assisted reproductive, PGT- preimplantation genetic testing and NIPT – non-invasive prenatal testing.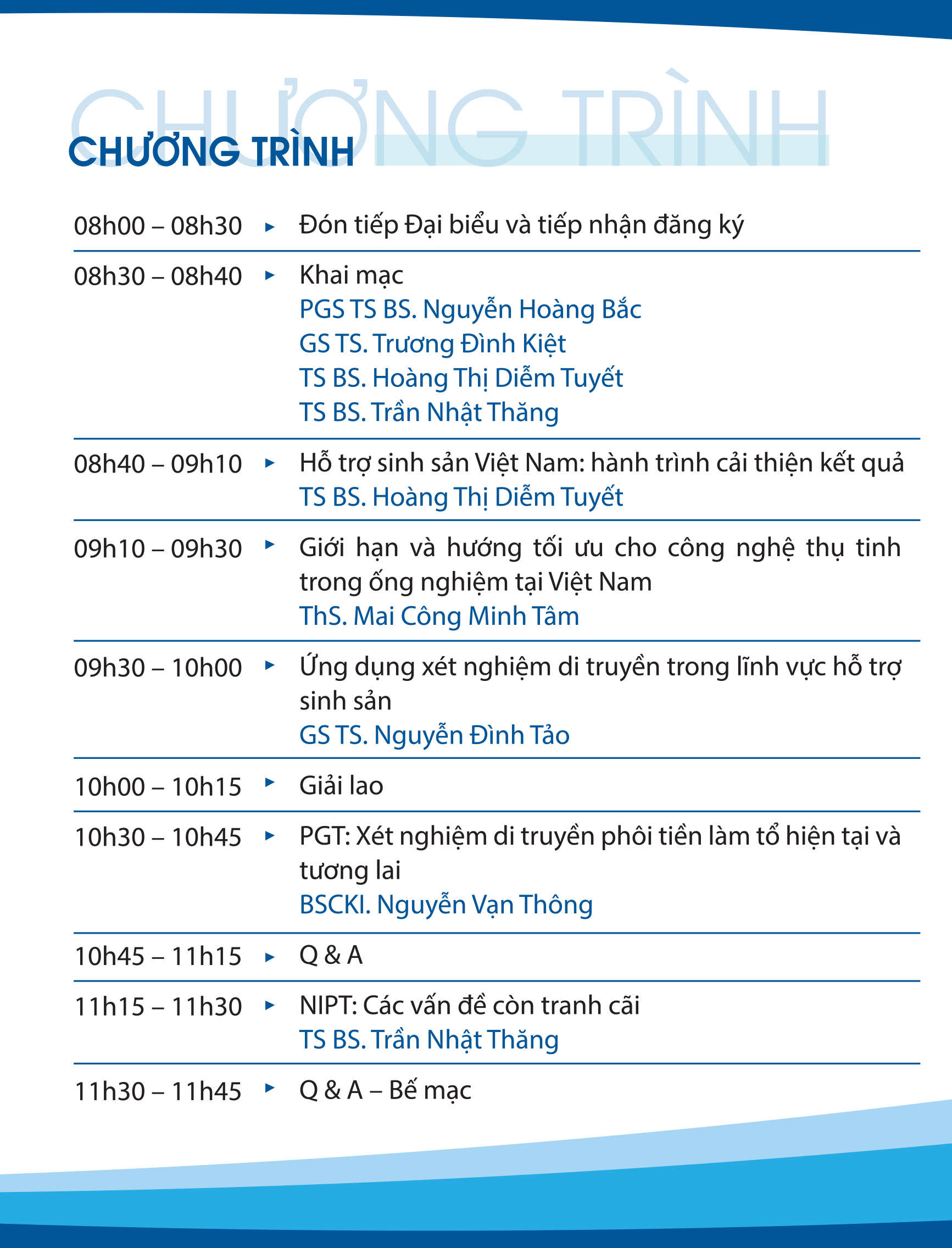 Agenda of the program
The program is equal to 4 lessons of CME for 200 doctors in obstetrics, gynecology and other related fields. The cost for training was covered by Biomedic company, Gentis and Intesco. Considered the sponsor of the conference, Biomedic offered 20 entries to the program for the 20 obstetricians and gynecologists who register fastest on the link: https://goo.gl/forms/SGuz1U6vtYl4dp8L2
In 2018, Biomedic also sponsored for the event "Genetic counseling in Obstetrics" held by HMU. The information as reference in the link: https://www.biomedic.com.vn/biomedic-tham-gia-to-chuc-hoi-nghi-tu-van-di-truyen-san-khoa-2018/
Summary after the event
The conference took place successfully with the attendance of nearly 300 doctors, technicians working in obstetrics and gynecology and some other specialists in other countries as well as representatives from Illumina (the US).
At the conference, doctors were updated genetic information, solutions for higher possibility for successful IVF and non-invasive prenatal testing. CME certificate sponsored by Biomedic and two other agencies sent to doctors who joined the conference.
Some pictures taken at the conference: