May 14, 2019
Posted by:

biomedic

Category:

Events, News
From 13 th to 14 th May , National Hospital of Obstetrics and Gynecology collaborated with French Association of Obstetrics and Gynecology organized "2019 Viet-Phap conference on Obstetrics and Gynecology" at Lotte hotel (54 Lieu Giai, Ba Dinh, Hanoi). There were the attendance of Assoc. Prof. Luong Ngoc Khue, Director General of the Medical Services Administration Department – Ministry of Health, Assoc. Prof. Tran Danh Cuong, Director of National Hospital of Obstetrics and Gynecology, Professor Henri -Jean Philippe, Paris Dercastes University, France, Mr. Thomas Mourez, representative of French embassy in Vietnam and more than 1.600 guests who are professors, doctors and top specialists in reproductive health care in Vietnam and other countries in the world. Biomedic was honour to by silver sponsor for the program.
The conference is an opportunity for Vietnamese doctors and physicians gynecology, neonatology and reproductive health to study and exchange modern diagnostic techniques and treatment from advanced medical development, it is also to promote and enhance the role of National Hospital of Obstetrics and Gynecology in particular, of Vietnamese medicine in general in the international forum.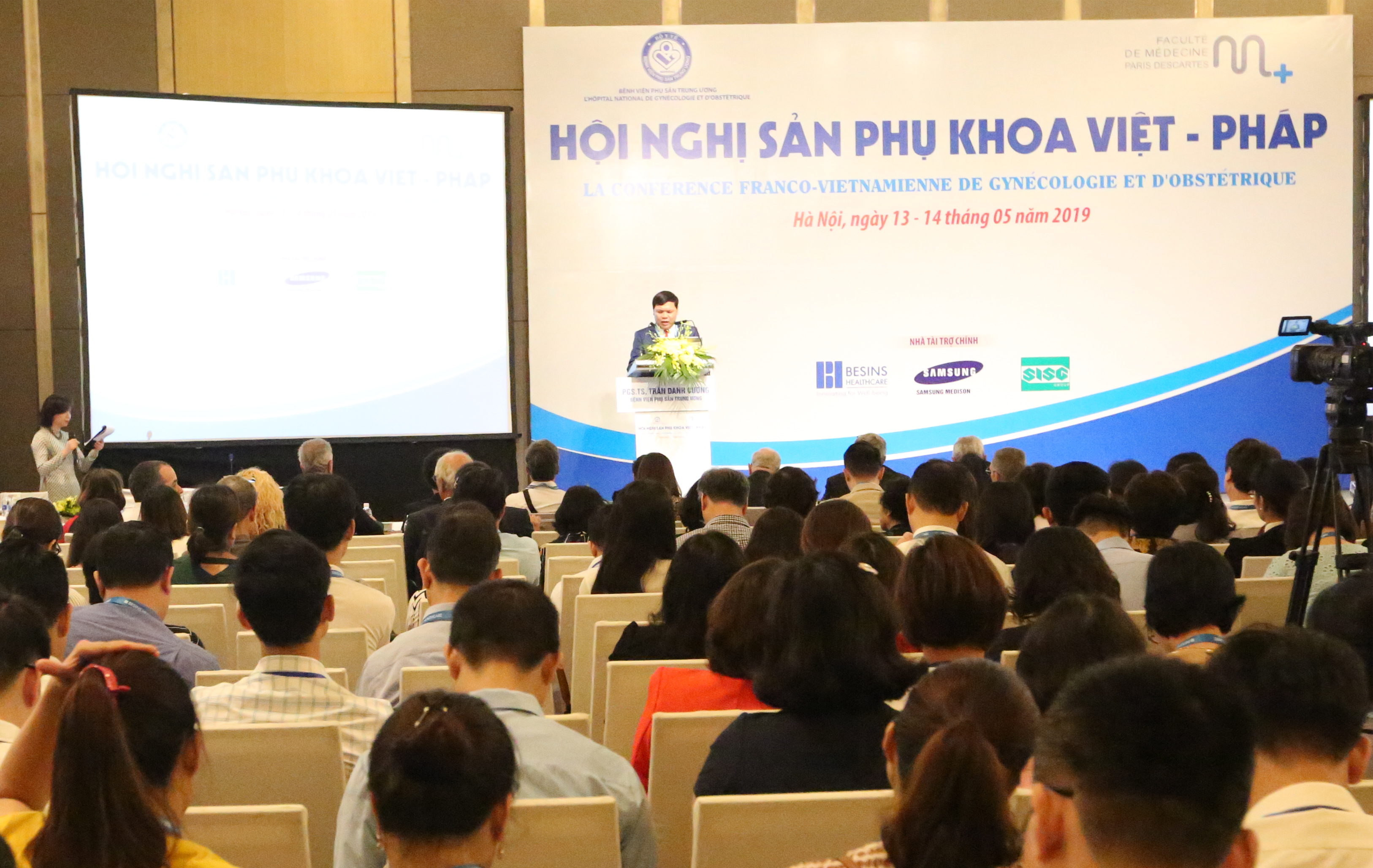 Assoc.Prof. Tran Danh Cuong, Director of National Hospital of Obstetrics and Gynecology address the program
Address the conference, Assoc.Prof. Tran Danh Cuong, Director of National Hospital of Obstetrics and Gynecology said that National Hospital of Obstetrics and Gynecology, with more than 20 years of collaboration with French, are more and more professional in holding larger-scale conference attracting thousands of doctors and specialists in the same field.
After the plenary session, which had 11 thematic sessions with 72 scientific reports of 21 professors and international experts from England, France, Singapore, Netherlands, Finland …, over 30 reporters of Vietnam about the current topics in obstetrics and gynecology. Especially, in the topic "Prenatal diagnosis", there are 3 reports presented discussing about non-invasive prenatal screening (NIPT). This is a safe method of prenatal screening and brings many benefits to pregnant women.
Doctor TS. Heidi Cheng, National University of Singapore join the program with the topic " The latest advanced technology in non-invasive prenatal screening"
Participating in exhibition at the conference, Biomedic focused on introducing solutions in screening and diagnosis of gynecological genetics, from pre-marriage testing (STD, HPV test) non-invasive prenatal screening (NIPT), attracting the interest of many customers.
Pre-marriage test: As an authorized distributor of Illumina, Panagene, Geneproof, Bred Life Science, Biomedic offers solutions to test sexually transmitted diseases, tests for sperm fragmentation causing male infertility, screening and detection of 40 HPV strains that help early screening cervical cancer…
Pre-nest genetic screening test PGS: With PGS, selected embryo transplantation is guaranteed to be completely healthy, without birth defects, bringing hope and happiness to be parents for many infertile couples.
Non-invasive prenatal diagnostic test (NIPT): The absolute safety method for pregnant women and fetuses, NIPT is able to accurately detect up to 99.98%, the lowest false positive rate in the market today. Since then, the number of wrong amniocentesis has been minimized that is extremely supportive and helpful for many moms and their families.
Some pictures at the booth of Biomedic: